HUNGRY RATS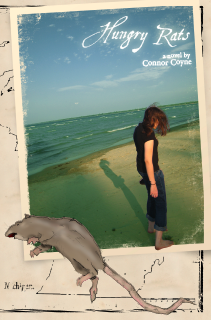 "Rat Man, you out there?" you asked.

The Rat Man, a serial killer, is on the loose in Flint, Michigan, and nobody can stop him. Except you, Meredith Malady, a high-school girl with a dysfunctional family and a score to settle. Running away from home is the first step, but where will you stay? How will you survive? And what will you do when you meet the Rat Man face to face?
DASH AGAINST DARKNESS
Connor Coyne's short story "Dash Against Darkness" appeared in the 96th volume of the Santa Clara Review. In "Darkness" an old man, Gerald, looks for a sign of ongoing connection to his departed wife Margery. He does get a sign, but the sign is an absence.
OOOOO
Connor's short short story "Ooooo" appeared in the 12th volume of the Moria Poetry Zine.  The story is as enigmatic and occlusive as it is concise.